Print-friendly version
American RV Clubs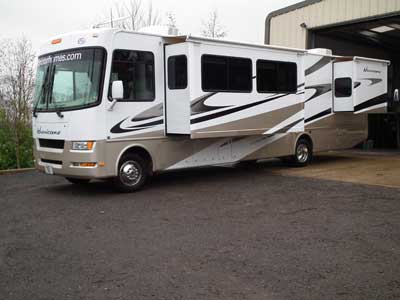 American RVs conjure up a real image of the open road, miles of desert, tumble weed and the great American Dream. They are big, even the smaller ones and it has to be said that owners exude a smugness all of their own. And why shouldn't an owner of an American RV be smug? Let's face it when you are driving the equivalent of a vehicular Albert Hall, you have something to be smug about. Even the manufacturers' names offer a romance that few others can match: Dynasty, Winnie Bago, Monarch and Georgie Boy.




But it's not all gleaming teeth with immaculate bridge work. American RVs have a level of luxury that leaves the rest standing. Plush upholstery, central heating and not only internal but external power showers rule. Chrome trim just adds a subtle contrast to the colossal coach work; all of which revolves heads as any American RV roars along the road.




RV owners are many and varied from those who have scrimped and saved for years to get their dream, to those who merely see it as a reflection of their status in life or those who spend hours renovating a RV that has become a passion.




American RV clubs give out a friendly welcome to one and all. They love the American way of life and celebrate the chance to have a cook out and a few beers, they also love their RVs with a passion.


Any owner will tell you that a 40 foot American RV can look terrific gliding across the Arizona flats or down the East Coast Highway but the real challenge is navigating the Dorset country side or tripping across the Peak District. But then it rarely causes a problem when you know that you can always pull up and invite 'ALL' the locals to a party.