Print-friendly version
Eura Mobil Motorhome Clubs
Being based in Sprendlingen Germany and set in the heart of the Rhineland ensures that Eura Mobil Motorhomes are well placed for providing quality, reliability and practicality. In their own words they build exclusively 'motor homes', and make no compromises when designing, developing or producing motor homes. So owners of owners can be comforted that their large investment has been well made, especially as Eura Mobil Motor homes have been in the industry for over 50 years.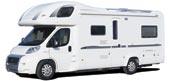 Up to the year 2000 they had produced over 16,800 units. Their range now is exclusively coach built and even includes 'A' class units for those who prefer the luxury of a van that has everything, including space. With a German heritage it's not surprising that Eura Mobil
Motor homes
come with a range of base vehicles that will off great service for years.
While still a fairly rare sight on English roads, Eura Mobil Motorhomes do regularly appear on European roads. British owners are staunched supporters of the model and meet to exchange smug glances as members of a rather exclusive club. In addition there is great fun in knowing that your club stands out from the crowd.
Because Eura Mobil Motor homes are larger vans there is a tendency for owners to be rather more adventurous than most, so continental trips are the norm. Large vans are essential if you want a long trip to be completed in comfort and Eura Mobil Motor homes have enough onboard storage to ensure that owners don't have to compromise on what is taken on the trip.